Warsaw Chopin Airport (WAW)
Former Warsaw – Okiecie Airport (Port Lotniczy Warszawa Okecie) – The biggest airport in Poland
All major international airlines fly into Warsaw Chopin Airport (WAW), and the airport handles almost half of the entire country's air passenger traffic.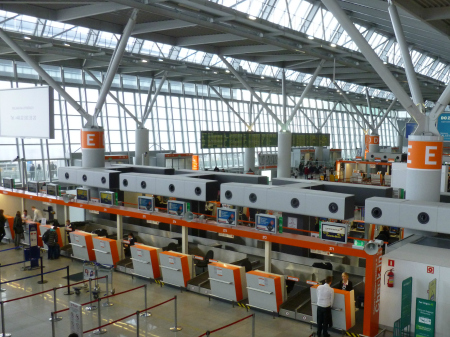 The airport is often referred to by its pre-2001 name, Warsaw-Okiecie Airport (Port Lotniczy Warszawa Okecie).
It provides service to lots of regional and European destinations, as well as Chicago, Dubai, Tel-Aviv, and more.
The airport is nice and fairly modern, and it's grown progressively busier over the course of the past few years.
Chopin Airport's biggest destinations are London-Heathrow, Paris-Charles de Gaulle, Frankfurt, Gdansk and Wroclaw.
Getting to the city from Warsaw airport
Some hotels and even hostels will drive you to and from the airport via shuttle, but if not, there are lots of transportation options.
Just under 10 kilometres southeast of the Warsaw's city center, it's easy to get from Chopin Airport to all the city's business and tourism districts.
By bus to the city center
You can also get from Chopin Airport to Warsaw's city center using a number of bus lines.
Bus 175 goes to both Warszawa Centralny and Old Town (Castle Square, Plac Zamkowy).
Bus 188 doesn't go to the center of Warsaw, but passes it in the south. You may switch to metro at Politechnika. Bus 331 goes to the PolskiBus terminal at metro Wilanowska, and Bus 148 goes to Praga (the section of the city east of the Vistula).
By taxi to the city center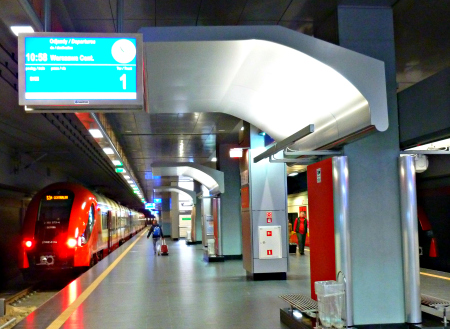 Taxi drivers solicit customers inside the terminal, but they tend to overcharge. Airport authorities have, however, compiled a list of credible cab companies, including Super, Ele and Sawa Taxi, as well as the phone-ordered company corporations.
You should expect to pay about 45 zloty to get to the city center at night or in high-traffic times, and less in the morning or afternoon. Look for running meters and don't accept fares of more than 3 zloty per kilometer.
By train to the city center
Chopin Airport also has its own train station, which provides direct service to the city center. Trains leave every 10-20 minutes depending on the time.
Line S2 goes to Warszawa Srodmiescie (Warsaw City Center), a station within walking distance of Warszawa Centralna. Line S3 takes you directly to Warszawa Centralna Station (Main Railway Station). You can buy tickets at the ticket counter and at ticket machines. You can access the train station just outside of the arrivals area of the airport, and it will be directly connected to the airport.
Chopin Airport is conveniently located with lots of options to get to and from the city center. Each one is pretty affordable and pretty straightforward. In addition, there are landmarks which can help you know if you're close to the city center.
The most notable one is, of course, the Palace of Culture and Science, an iconic Stalinist-era building at the heart of the city center and tourism district. From there, you can use tourist busses and other transportation to visit Warsaw's sights.