Public Transport in Warsaw
Buses, metro, trams and local trains for travelling in Warsaw
Warsaw has an intensive internal transportation system. Ranging from tram systems, to its two metro lines (M1 and M2), buses and local trains. With over 1,500 transportation units in the public transportation system as of 2015 running east to west and north to south. Most transport lines run from between 05:00 and 23:00. After those hours buses run each route twice an hour. All night buses display the letter N in front of their two digit bus number. There is even an express bus that is marked with red digits that skips the smaller stops. The general rules are basically the same as throughout the world. The public transport regulations can be found in print on each vehicle in the transport system.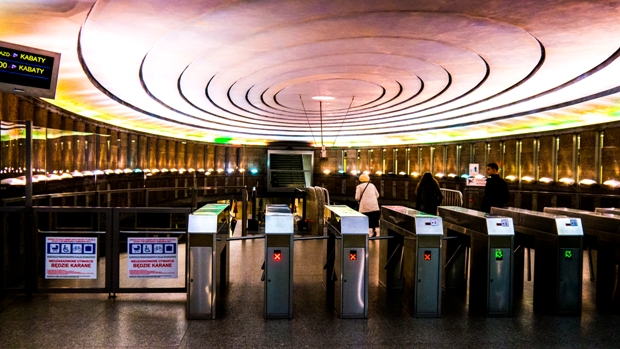 Buses in Warsaw
Buses are mostly numbered between 100 and 399. The numerical range includes seasonal lines which are only activated at specific times of days of the week. These buses stop at all stops and function just like one would expect any bus line to operated.
Bus lines 400 to 599 are the quicker lines that do not stop at low traffic areas.
Also there are the Express buses that focus on the main transport line. These buses can be easily identified by the "E" along with the number of the bus that indicates that it is an express line. These buses make it easier to get from outer parts of Warsaw to the city center. These lines can also be used to get to the outskirts of Warsaw. Enabling tourists and locals a greater radius of travel. The buses that are outside of the Warsaw main zone are numbered 700 to 899.
The parts on the route where you enter a new travel zone are specifically marked border stops and reflect that it is outside the city limits of Warsaw.
Metro in Warsaw
The first subway line (M1) connects Bielany district with Ursynow and passes the city center (Śródmieście). The second subway line (M2) currently connects Wola district with Praga, but this metro line will still be extended in both directions in the coming years. The metro lines work approximately from 5:00 a.m. until 1:00 a.m. Weekend nights (Friday and Saturday) the metro remains open till after 3:00 a.m. at a frequency of 15 minutes until the next metro shows up. In the event of service interruptions such as break downs or natural disasters these transportation lines may be interrupted. When there is a break in service the transit system deploys extra buses to transport would-be subway riders, marked with a "Z".
Trams in Warsaw
Trams have numbers between 1 and 79. The more basic tram connections on the tram line are numbered from 1 to 39. The tram lines are more environmentally friendly for those concerned about their carbon footprint. They are electric and emit zero emissions in terms of carbon monoxide released into the atmosphere. The trams tend to be faster as they have their own lanes and lines through the city. There are however lines you can take that go well beyond the Warsaw boundaries and into the greater metropolitan areas on the outskirts of Warsaw. Not all of these lines can be accessed through the tram line but rather by the bus line. The trams are more exclusive to Warsaw itself rather than the outskirts of the city.
Local trains in Warsaw
The Szybka Kole Miejska trains – SKM are lines above ground unlike the metro. They use "S" and a number as identification. SKM trains always cross two zones, make sure you have the correct tickets. Fare rules are like on bus, metro or tram lines.
Koleje Mazowiecki trains are also local trains but not from the city, they belong to the Masovian Voivodeship. Therefore different fare rules aplly for most routes.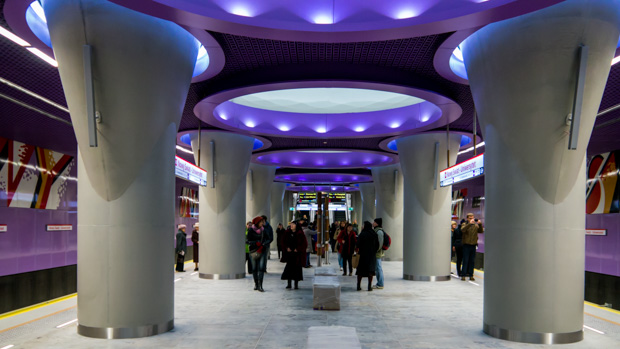 Prices for public transport in Warsaw
A standard public transport single ticket costs 4.40zl. Purchasing ride tickets (all valid for use on any metro line, bus or tram) can be bought from some kiosks bearing the green and yellow RUCH logo, or anywhere with a sign reading Bilety. There are however a series of ticket machines with instructions in English dotted around the city, and English translations are printed on tickets. If you are traveling to the further reaches of Warsaw or to the outskirts of the city you'll be needing a ticket that covers both Zones 1 as well as 2 – these are priced at 7zl. The airport (this is important to note) is considered Zone 1. There is also a 20 minute ticket priced at 3.40zl whereas tickets valid for a full 24 hrs are priced from 13 to 26zl if you are traveling through both zones. There is also a new weekend ticket available from 19:00 on Friday till 08:00 on Monday which costs 24zl. Children of course ride the transit lines for free until the end of the August of the year they turn 7 years old.
On the transit systems it is important to note that you may need proof of your age and identity. So it is always a good idea to have your ID handy. Getting a discount on ticket price for everyone else that pays full fare unless you are in possession of an ISIC card in which case you must be 26 and under. This card entitles you to buy a reduced longer term ticket (ulgowy) which is 50% off of the full fare. So if you are back packing Europe and find yourself in Warsaw without the desire to rent a car – this could really come in handy. So, make sure to get an ISIC card and get 50% off on public transportation so you can spend what you saved on shops in Warsaw!
Purchasing a ticket is very important and should not be avoided. There are plain clothes ticket inspectors who regularly stalk the lines, dishing out 266zl tickets to those without valid tickets. Paying this fine is not worth the actual cost of a 4.00zl single fare ride ticket. So make sure to always purchase a ticket and avoid the high cost of the fine associated with trying to get a free ride! You have been warned! They very often don't look very official and you are within your rights to request their identification if you don't believe they are who they say they are, or even do as the locals do, and attempt to bargain them down!