Palace of Culture and Science in Warsaw
Palac Kultury i Nauki: The city's tallest building
Warsaw's Palace of Culture and Science is still rather unpopular among Poles. For many people it remains a symbol of almost 45 years of Russian suppression after World War II. However this is changing a little and plans to tear down the building do not seem realistic today, although this is discussed from time to time.
The building is rather impressive with its height of 230 meters.
Nowadays you can find a Cinema, Theater, Museum and the Congress Hall here.
Until today it remains the highest building in Poland, after its construction it was Europe's second tallest building with 42 floors.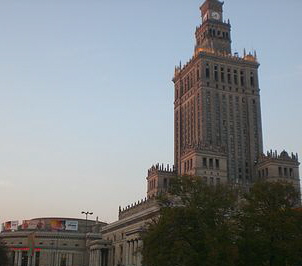 One is fascinated to hear that it only took 3 years from April 1952 until 1955 to build theses 3288 rooms.
3500 workers were working day and night to get the Palace done as soon as possible, during the construction 16 workers died.
Responsible for building the Palace was architect Lev Rudnev, but officially the concept was from Stalin, who wanted to give the Palace to the Polish people as a gift from the Soviet Union. Of course the Poles rather thought of it as a symbol of Russian might instead of a gift.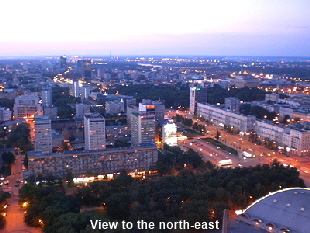 Since New Year 2000 the Palace of Culture and Science has the highest Tower Clock in the world, the clock hands are 6 meters long, so that the clock can still been seen from further away.
The main touristic attraction is the viewing terrace on the 30th floor. In a height of 114 meters you can have a nice view over the city of Warsaw.
It is especially nice to watch the sun go down in summer (only on Friday and Saturday).
Viewing Terrace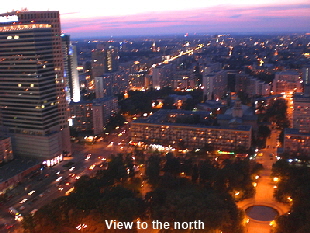 daily: 9am – 8pm
(additionally in summer: Friday and Saturday until 11:45 pm).
Entrance fee: 20 PLN
(reduced fee: 15 PLN).
Thanks to the recently installed elevators it only takes 25 seconds to move up 30 floors.
Museum of Technology
Monday to Friday: 9am – 5 pm
Saturday, Sunday: 10am – 5 pm.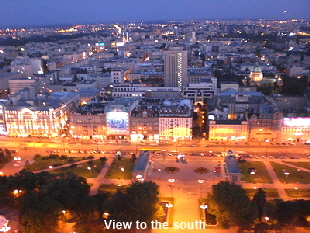 Entrance fee: 8 PLN
(reduced fee: 4 PLN)
Location
Palace of Culture and Science (PKiN), pl. Defilad 1
Metro Station: Centrum (300 meters)
Buses and Trams: Stations: Centrum (300 meters) and Dworzec Centralny – Main Railway Station (300 meters)