Warsaw Modlin Airport (WMI)
Warsaw's airport for low-cost airlines – currently Ryanair
With rapidly increasing traffic to Warsaw's main (Chopin) airport, Modlin Airport (WMI) was recently built as a port for budget traffic, especially Ryainair.
Also Wizzair was using the airport at the start of operation, but now operates from Warsaw's bigger airport.
Transformed military airport connects many cities in Europe
Formerly a disused military airport, WMI now connects Poland's capital to lots of European destinations.
There are flights to places like Barcelona, Brussels, Budapest, Dublin, Glasgow, London and Stockholm.
Traffic to Modlin is rapidly increasing, and the small airport now transports over a hundred thousand passengers a month.
How to get to Warsaw center from Modlin Airport
Unlike Chopin, Modlin Airport is not close to the city center. In fact, it's about 40 km north of Warsaw near the town Nowy Dwor Mazowiecki. Though it's rather far for a normal taxi ride, hotel shuttle service or city public transportation, there are a few ways to get to Warsaw's city center from WMI.
Some car rental agencies have offices at the airport, and the city is about a half hour drive down E66 (also known as the S7).
By bus to Warsaw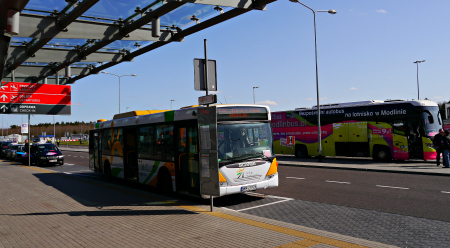 Bus service may be the best option for transportation to Warsaw from Modlin Airport. Modlin Bus offers its service from right outside the airport, and will drop you off in the middle of the city center. Modlin Bus tickets are 33 zloty and can be purchased at a desk near the airport exit. Modlin busses are equipped with Wi-Fi, and will drop you off outside Warsaw Centralna.
By train to Warsaw
Train service runs from Koleje Mazowieckie from 5:57am to just after midnight. A shuttle service runs from the airport to the train station, and the combined price of the shuttle bus and train tickets is about 17 zloty, which is very reasonable. Trains take 50 minutes and stop at multiple Warsaw train stations, including Centralna, in the city center.
By taxi to Warsaw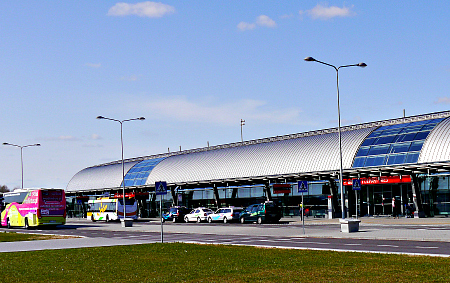 You can, however get a taxi ride to Warsaw's city center, though it will be somewhat expensive. Expect to pay around 200 PLN for one ride.
Be sure to only use marked taxis with phone numbers and company names, and always check the fare beforehand.
Keep in mind Warsaw Modlin is a relatively new airport serving passengers of budget airlines, and connecting Poland to cities across Europe.
Allthough Modlin is about 40 km from Warsaw's city center, there are plenty of affordable, quick and frequent transportation options.
Though taxis cost about 50 Euro each way, trains and busses can get you there quickly and comfortably for a fraction of that.
Trains and busses tend to be new, air conditioned and some even offer Wi-Fi.