Warsaw (Polish: Warszawa) is by far the largest city in Poland with a population of 1,7 million people, it is part of the region Masovia and is crossed by the Vistula river.
The city has been the capital of Poland since the 16th century. Warsaw is a great business and leisure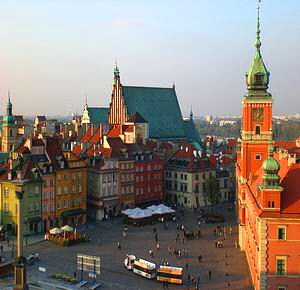 destination.
For tourists Warsaw has a lot to offer. Yes, it is still a cheap destination compared to other hotspots. This is especially true when comparing it other large cities in the eastern part of Europe. Think of accommodation prices in Moscow or Kyiv and in Prague everything seems to be expensive these days. Poland is still a reasonable priced Country. That goes for everything including accommodation, restaurants, transportation and so on. We will show you the beauties of Warsaw and give you lots of inside information on this great city. The city is ideal for tourists that want to see one of Europe's most beautiful cities also for young people that like to party cheaper than at home. Prices for flights especially from other European cities are so cheap that it doesn't take a big investment to come here.
For business people there are plenty of 5 star hotels and all the major companies of the world have offices here. Warsaw is often seen as the gateway to doing business in the east.
This site will offer plenty of information on the most beautiful sights of Warsaw aswell as lots of advice for having a good time here. We will show you the best places to stay, eat, drink and party. There will also be a special section for tourists that have a tight budget, but still want to have a great time here.