The best options for staying in Warsaw cheap and comfortable
It's not actually hard to find good accommodations in Warsaw. The 9th largest city in Europe, Warsaw is rapidly growing as a business and political hub, a place which connects the two sides of Europe, an advocate for the poorer cities east of it to the richer cities to its west. It lacks the level of tourism of some Polish cities, especially Krakow, but it's up-and-coming, friendly and forward looking, creating an atmosphere perfect for great tourism, including great accommodations.

Bed & Breakfast in Warsaw
If you choose, you can stay at a Bed & Breakfast. There's a large selection of great ones in the city. Some are cheaper and less nice, but few are really off-putting. Some B&Bs in Warsaw are run by students, sections of student housing rented out to tourists and visitors. A nice B&B in Warsaw will cost about €50/night, though there can be about €10 variation either way. Cheaper ones can still be clean and comfortable, they'll just have fewer amenities. These cost from €20 to €30/night.
Apartments in Warsaw
Another option is to rent an apartment. These can be affordable, especially for large groups or families. You won't get services like breakfast, but you can stay in an actual apartment, with beds, TV, Wi-Fi, a kitchen and bathroom. Apartments can sleep 5 or 6 people (some of the more upscale ones might only sleep 2), and prices range from €30 to €100/night. A family of five sleeping for €40 comes out to €8/person, meaning you get very nice accommodations for the price of a lower-end hostel.
Hotels in Warsaw
Of course, Warsaw offers a huge range of hotels, from cheap ones catering mostly to Polish travelers to fabulous, luxury hotels which could rival any in the "West." Some are located in the city center, and others farther away. Like anywhere else, it's worthwhile to check out reviews of a hotel online before you book, as some of the lower-end hotels misrepresent themselves. The majority of hotels, though, even cheap ones priced at less than €20/night, are clean, tidy and comfortable, truly decent accommodation. Warsaw has lots of top international hotel chains, like Hyatt, Marriot, Hilton, Holiday Inn and more. There are also independent, though equally fancy and stylish hotels which exude the Central European Charm that Warsaw holds dear. High end hotels cost from €50/night to over €100.
Hostels in Warsaw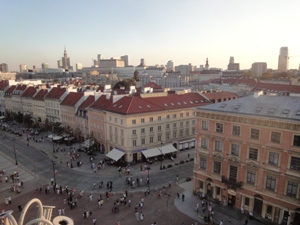 Lastly, like in so much of Europe, hostels are a fantastic option. This communal form of lodging is usually very modern, affordable, trendy and friendly. Not just for "youths" anymore, they're also the best choice for anyone who values good conversation and insider tips while on vacation. There are many, many hostels in Warsaw, some in the city's most premium locations. They typically range from about €10 to €30/night, but some rooms can be up to €100. These rooms are much more hotel-like, private, with great amenities, and able to hold families or groups.
When selecting accommodations in Warsaw, there are a few factors to consider. The first is, of course, which type of accommodation you want and what amenities you value. The second is to read reviews. The last is to choose your location. Unlike many European cities, Warsaw is sprawling and large, with interesting sights and activities spread out over many square miles. If you're in Warsaw for something specific, make sure to choose lodging near to it. If you're in Warsaw for general travel, know that "not in the center" of Warsaw is completely different from "not in the center of Krakow."
Poland is rapidly modernizing and becoming much more like Western Europe than the Eastern Europe it was once associated with. Because of this, lodging in Polish cities, especially Warsaw and Krakow, meets high standards and comes in a wide range, suited to every type of traveler from business to backpacker to family vacationers. Even most lower-end accommodation should be clean and comfortable.